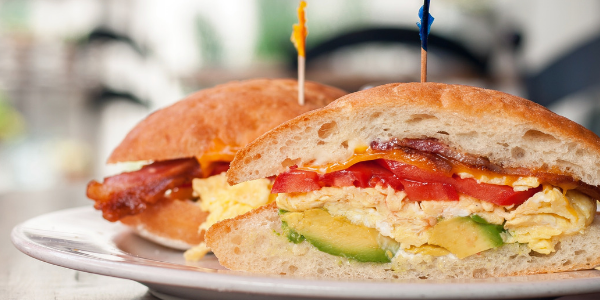 You can't go wrong with the classics! Try out these 3 Quick, Yet Delicious Camping Sandwich Recipes For A Crowd from RVing.how! Be sure to check out RVing.how for great tips, tricks, recipes and much more! We love sharing what they put out for us fellow campers and we hope you do too!
Ultimate Roast Beef Camping Sandwich
Serves 12 People!
Ingredients & Instructions
2 loaves Italian bread, halved lengthwise
1/2 kilogram thinly sliced roast beef, cooked
1/2 kilogram thinly sliced ham, cooked
14 banana peppers
14 thin slices dill pickle
Lettuce
1 cup cream cheese
1 cup shredded cheddar cheese
3/4 cup sliced onions
1/4 cup mayonnaise
1 tablespoon Worcestershire sauce
In a bowl, mix together cream cheese, cheddar cheese, onions, mayonnaise and Worcestershire sauce. Using a small knife, carefully hollow out the top and bottom of the loaf, leaving about 1/20inches of bread. Spread the mixture generously over the cut sides of each loaf. On the top halves, place roast beef and ham. On the bottom halves, place peppers, pickles and lettuce. Press halves together. Gently wrap in plastic and refrigerate for at least 2 hours. If bringing to a trip, wrap in tin foil and heat over campfire for 10 to 15 minutes if desired warm. Slice and serve!
Cheesy Caprese Sandwich
Serves 6 People!
Ingredients & Instructions
1 loaf French bread, halved
10-12 slices caprese tomatoes
10-12 large fresh basil leaves
1 package fresh mozzarella
1/4 cup grated Parmesan cheese
1 tablespoon butter
Spread the cut sides of the bread with butter then sprinkle with parmesan. Place mozzarella (as much or as little as you want) on the bottom half of the load then layer with caprese tomatoes and basil. Press halves together, wrap in foil then heat for 10 minutes over a campfire.
Chicken Salad Sandwich
Serves 8 People!
Ingredients & Instructions
1 loaf French bread, sliced in half lengthwise
3 cups shredded chicken
1/3 cup chopped onions
1/4 cup mayonnaise
1/4 cup fat-free plain yogurt
1/4 cup chopped almonds
1 teaspoon Dijon mustard
1/2 teaspoon parsley
1/8 teaspoon salt
1/8 teaspoon ground black pepper
Hollow out the bread. Leave at least 1/2 inches. In a large bowl, combine the chicken, onion, mayonnaise, yogurt, almonds, mustard and parsley. Season with salt and pepper. Scoop the mixture into the loaf and spread even. Press halves together. Sandwich can be eaten cold or warmed over fire for 5 minutes.