Shopping for your new or used camper can be fun, but there also can be some misperceptions related to campers. We will review 5 of these below.
Model numbers indicate the length of the camper
The vast majority of the time this is NOT true. Most of the model numbers will give you an approximate length of the "box" size, or inside living space length, however this is not considered the true length of the camper. Length of a towable camper is measured from the bumper to the coupler, this is called the tow length. Travel Trailers will have the A frame included in the tow length. For instance our 2022 KZ Connect 221 FKKSE has a tow length of 26'8". This can be very deceiving when you think you're looking at for a 22' camper, and you find out it's actually almost 27'.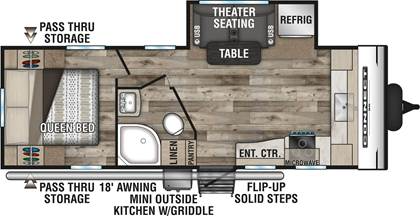 If I have a truck I can tow any camper
This is true in very few instances. There are many different makes and models in the truck world today, and even within the same manufacture and model there can be different engine sizes and axle ratios. As an example you can own a 2020 Chevy 1500 4×4 Crew Cab, and have 10 possibilities of what your tow capacity is. If you are considering a Fifth Wheel camper, you will also need to know your trucks payload capacity, or the total cargo weight that the manufacture recommends. If you have not purchased your tow vehicle yet, Plattsburgh RV Store highly recommends sitting with one of our industry expert Camping Specialists to figure out what you want for a camper and recommend what you will need for the tow vehicle.
I have a Polar Package, I should be able to use year round
In some areas of the country this statement holds true, however in Plattsburgh, NY and many other parts of the country this will not be the case. Whether you call it a Polar Package, Artic Package, or something else, even with any additional insulation it may have, it will still get cold inside during extended periods of freezing temperatures. You may also run the risk of water lines freezing and bursting. These packages do allow you to extend the fall camping season and begin the spring season a bit sooner. It's always best to see what the manufacture recommends.
If a camper is not branded Ultra-lite then it is heavier
This may have been the case several years ago, but not today. There are many models that do not have "ultra-lite" in their name, which are still lighter in weight. Plattsburgh RV Store website allows you to search by weight, Ultra-lite being under 3500 pounds and under.
My truck has factory sway control, I don't need any sway control
The factory sway control built in the tow vehicle will ensure the vehicle will not sway, however it will not prevent the camper from swaying. Trailer Sway can be dangerous not only for you, but other travelers as well. Plattsburgh RV Store recommends and uses Blue Ox.

Shopping for a new or used camper in Plattsburgh, NY can be fun, especially when you do it with the friendly knowledgeable industry expert staff at Plattsburgh RV Store. Plattsburgh RV Store, Experience the Difference"