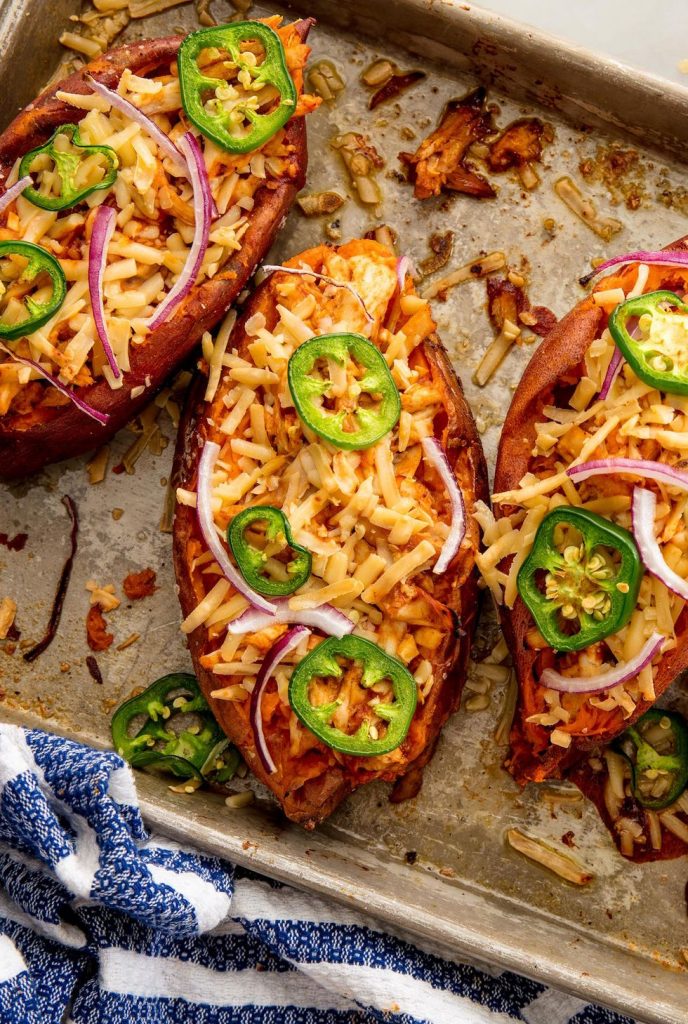 Ingredients
4 medium sweet potatoes
1 tbsp. extra-virgin olive oil
Kosher salt
Freshly ground black pepper
2 c. shredded rotisserie chicken
1/2 c. barbecue sauce, plus more for serving
2 cloves garlic, minced
1/2 small red onion, thinly sliced into quarter moons
1 small jalapeño, thinly sliced
1 c. shredded smoked Gouda
Directions
1. Preheat oven to 375°. Place sweet potatoes on a large baking sheet. Toss with oil and season with salt and pepper. 
2. Bake until tender, about 1 hour, depending on size. Let cool slightly, then, using a paring knife, slice along top of each sweet potato and push in both ends to create a well. 
3. In a medium bowl, toss chicken with barbecue sauce and garlic. Stuff into sweet potatoes, then top with red onion, jalapeño, and Gouda. Return to oven and bake until cheese is melty and chicken is warmed through, about 15 minutes more.
4. Drizzle with barbecue sauce before serving.
Source: Delish