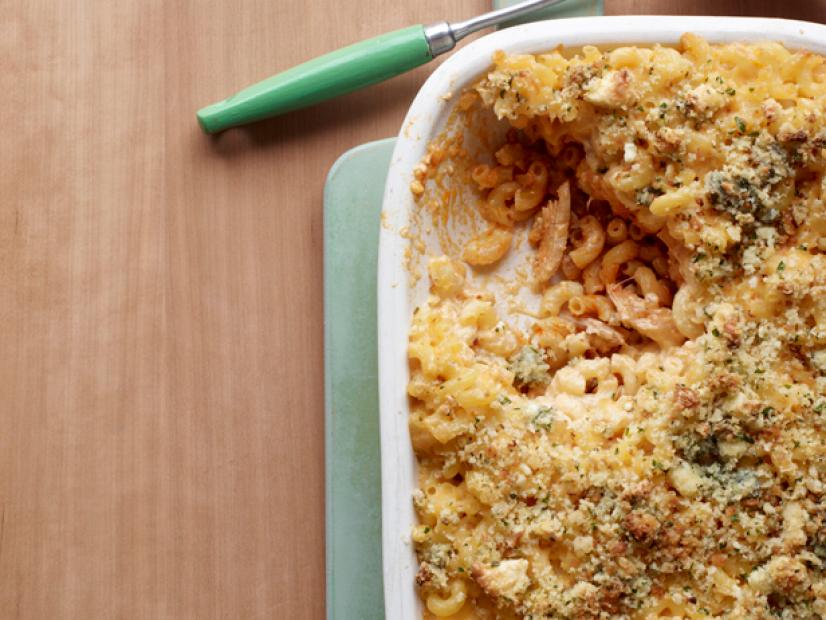 Ingredients
7 tablespoons unsalted butter, plus more for the dish
Kosher salt
1 pound elbow macaroni
1 small onion, finely chopped
2 stalks celery, finely chopped
3 cups shredded rotisserie chicken
2 cloves garlic, minced
3/4 cup hot sauce (preferably Frank's)
2 tablespoons all-purpose flour
2 teaspoons dry mustard
2 1/2 cups half-and-half
1 pound yellow sharp cheddar cheese, cut into 1-inch cubes (about 3 1/2 cups)
8 ounces pepper jack cheese, shredded (about 2 cups)
2/3 cup sour cream
1 cup panko (Japanese breadcrumbs)
1/2 cup crumbled blue cheese
2 tablespoons chopped fresh parsley
Directions
Preheat the oven to 350 degrees F and butter a 9-by-13-inch baking dish. Bring a large pot of salted water to a boil; add the pasta and cook until al dente, about 7 minutes. Drain.
Meanwhile, melt 3 tablespoons butter in a large skillet over medium heat. Add the onion and celery and cook until soft, about 5 minutes. Stir in the chicken and garlic and cook 2 minutes, then add 1/2 cup hot sauce and simmer until slightly thickened, about 1 more minute.
Melt 2 tablespoons butter in a saucepan over medium heat. Stir in the flour and mustard with a wooden spoon until smooth. Whisk in the half-and-half, then add the remaining 1/4 cup hot sauce and stir until thick, about 2 minutes. Whisk in the cheddar and pepper jack cheeses, then whisk in the sour cream until smooth.
Source: Food Network