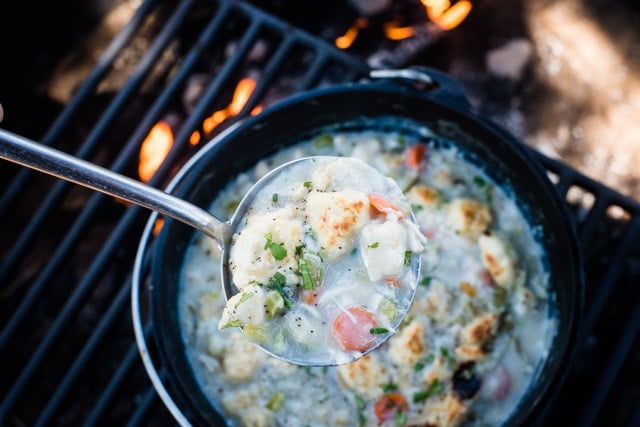 Try out this amazing recipe from The Adventure Bite! This dutch oven chicken & dumplings recipe is the perfect comfort food to have with family and friends around the campfire. This recipe serves around 8 people, will take about 20 minutes to prep your food, and an hour to cook. Enjoy and let us know what you think by sharing a photo to our Community page on Facebook!
Ingredients
1 broiler/fryer chicken 2-1/2 to 3 pounds, shredded or chunked
3 cups water
1 cup chopped onion
4 celery ribs sliced
3 medium carrots sliced
1 teaspoon celery seed
2 teaspoons rubbed sage divided
1 teaspoon salt
1/4 teaspoon pepper
3 cups biscuit/baking mix
3/4 cup plus 2 tablespoons milk
1 tablespoon minced fresh parsley
Instructions
Place chicken and water in a Dutch oven. Cover and bring to a boil.
Reduce heat to simmer; cook until chicken is tender, about 30 minutes.
Remove chicken from kettle; bone and cube.
Return chicken to kettle along with the onion, celery, carrots, celery seed, 1 teaspoon of sage, salt and pepper.
Bring to a boil.
Reduce heat.
Cover and simmer for 45-60 minutes or until the vegetables are tender.
For dumplings, combine the biscuit mix, milk, parsley and remaining sage to form a stiff batter or use a can of biscuits.
Drop by tablespoonfuls into the simmering chicken mixture.
Cover and simmer for 15 minutes.
Serve immediately.
LOCATION HOURS: