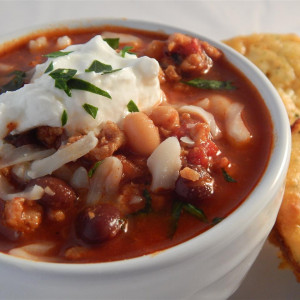 On rainy day's like today here in upstate New York, comfort food is what we're craving! We've found a DELICIOUS chicken and chorizo chili recipe from All Recipes! This recipe serves around 8 people, will take about 15 minutes to prep your food, and 50 minutes to cook. Enjoy and let us know what you think by sharing a photo to our Community page on Facebook!
Ingredients
1 tablespoon extra-virgin olive oil
¾ pound chorizo sausage, chopped
2 pounds ground chicken
¼ cup chili powder
1 ½ tablespoons ground cumin
1 onion, chopped
3 cloves garlic, finely chopped
1 red bell pepper, chopped
1 (15 ounce) can black beans, drained
1 (15 ounce) can white beans, drained
1 (12 fluid ounce) can or bottle beer
1 (28 ounce) can fire-roasted diced tomatoes, with juice
3 cups chicken stock
1 (6 ounce) can tomato paste
salt to taste
Instructions
Heat olive oil in a Dutch oven or a large pot over medium-high heat; cook and stir chorizo in hot oil until heated through, about 2 minutes. Remove chorizo using a slotted spoon to a bowl. Add chicken; cook and stir until chicken is browned and crumbly, 5 to 6 minutes. Season with chili powder and cumin.
Stir chorizo, onion, garlic, red bell pepper, black beans, and white beans into chicken; cook and stir until onion begin to soften, 5 to 6 minutes. Pour beer into chili; bring to a simmer. Add tomatoes, chicken stock, and tomato paste; simmer until heated through, about 5 minutes. Season with salt. Reduce heat to low and simmer until flavors blend, about 30 minutes.
LOCATION HOURS: