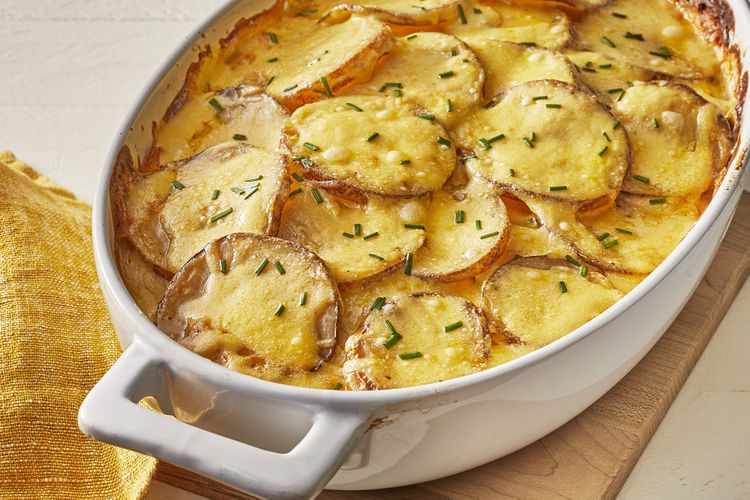 Ingredients
4 medium russet potatoes, thinly sliced 
1 medium onion, sliced into rings
salt and ground black pepper to taste
3 tablespoons butter
3 tablespoons all-purpose flour
½ teaspoon salt
2 cups milk
1 ½ cups shredded Cheddar cheese
Directions
Preheat the oven to 400 degrees F (200 degrees C). Butter a 1-quart casserole dish.
Layer 1/2 of the potatoes in the bottom of the prepared casserole dish; season with salt and pepper. Layer onion slices over top, then top with with remaining potatoes. Season again with salt and pepper.
Melt butter in a medium saucepan over medium heat. Gradually whisk in flour and salt and cook, whisking constantly until raw flour flavor has cooked off, about 1 minute. Gradually add milk, about 1/4 cup at a time, whisking well after each addition to incorporate; the gradual addition and whisking of milk will help avoid lumps in your sauce.
Cook, whisking constantly, until the mixture has thickened, 3 to 5 minutes. Stir in cheese all at once; continue stirring until melted, 30 to 60 seconds. Pour cheese sauce over the potatoes, and cover the dish with aluminum foil.
Bake in the preheated oven until potatoes are tender and sauce is bubbly, about 1 1/2 hours.
Source: Allrecipes