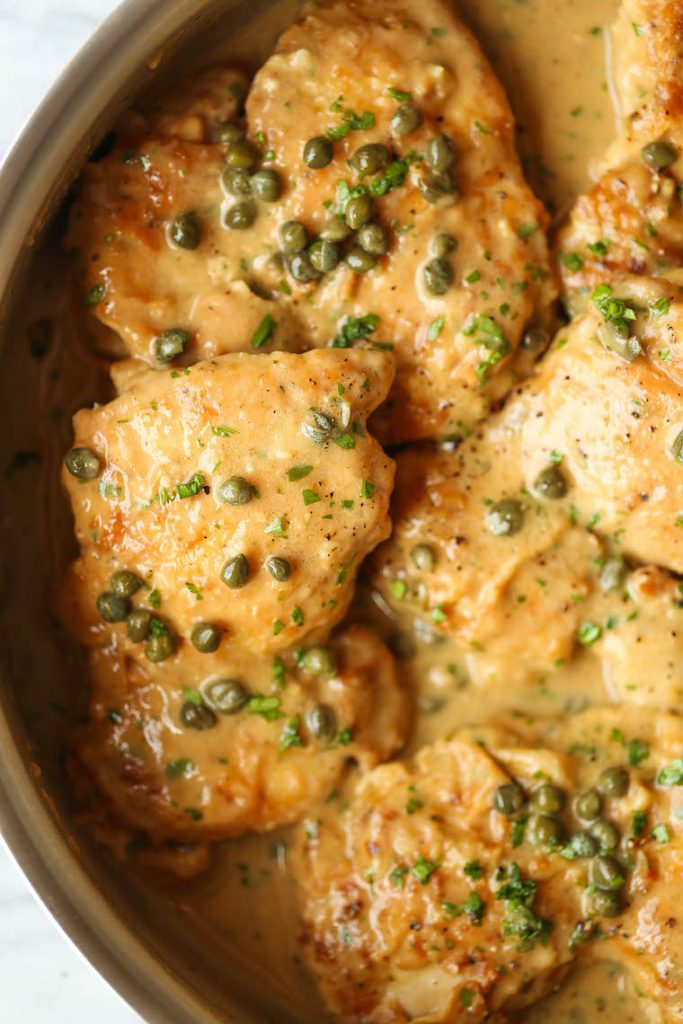 INGREDIENTS:
1 1/2 pounds boneless, skinless chicken thighs
Kosher salt and freshly ground black pepper, to taste
5 1/2 tablespoons all-purpose flour, divided
1 tablespoon canola oil
1 tablespoon unsalted butter
1 1/4 cups chicken stock
1/4 cup dry white wine
3 tablespoons freshly squeezed lemon juice
2 tablespoons heavy cream
2 tablespoons chopped fresh parsley leaves
1/4 cup capers, drained
DIRECTIONS:
1. Season chicken with 1 teaspoon salt and 1/2 teaspoon pepper. Dredge chicken in 4 tablespoons flour until evenly coated.
2. Heat canola oil and butter in a medium skillet over medium heat.
3. Working in batches, add chicken to the skillet in a single layer and cook until golden brown and cooked through, reaching an internal temperature of 165 degrees F, about 4-5 minutes per side; set aside. Reduce heat to medium low.
4. Whisk in remaining 1 1/2 tablespoons flour until lightly browned, about 1 minute.
5. Gradually whisk in chicken stock, wine and lemon juice. Bring to a boil; reduce heat and simmer, stirring occasionally, until reduced and slightly thickened, about 3 minutes. Stir in heavy cream, parsley and capers; season with salt and pepper, to taste. Return chicken to the skillet.
6. Serve immediately.
Source: Damn Delicious