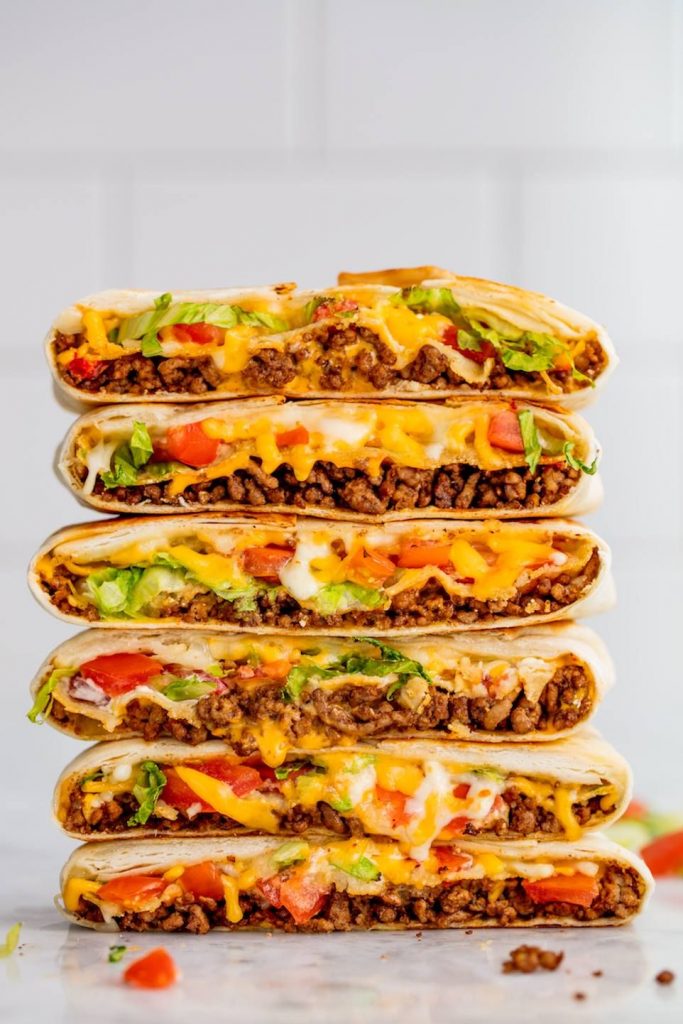 Ingredients
1 lb. ground beef
1 tsp. chili powder
1/2 tsp. ground paprika
1/2 tsp. ground cumin
Kosher salt
Freshly ground black pepper
8 large flour tortillas
1/2 c. nacho cheese sauce
4 tostada shells
1 c. sour cream
2 c. shredded lettuce
1 c. chopped tomatoes
1 c. shredded cheddar
1 c. shredded Monterey Jack
1 tbsp. vegetable oil
Directions
1. In a large nonstick skillet over medium heat, combine ground beef and spices and season with salt and pepper. Cook, breaking up meat with a wooden spoon, until no longer pink, about 6 minutes. Remove meat to a bowl and set aside. Drain fat and wipe skillet clean.
2. Stack 4 large flour tortillas and place a tostada shell in the center. Using a paring knife, trace around edges of shell to cut 4 smaller flour tortilla rounds.
3. Build Crunchwraps: Add a scoop of ground beef to the center of remaining 4 large flour tortillas, leaving a generous border for folding. Drizzle cheese sauce over each, then place a tostada shell on top. Spread sour cream over each shell, then top with lettuce, tomato, and cheeses. Place smaller flour tortilla cutouts on top and tightly fold edges of large tortilla toward the center, creating pleats. Quickly invert Crunchwraps so pleats are on the bottom and they stay together.
4. In the same skillet over medium heat, heat oil. Add Crunchwrap seam-side down and cook until tortilla is golden, 3 minutes per side. Repeat with remaining Crunchwraps.
Source: Delish