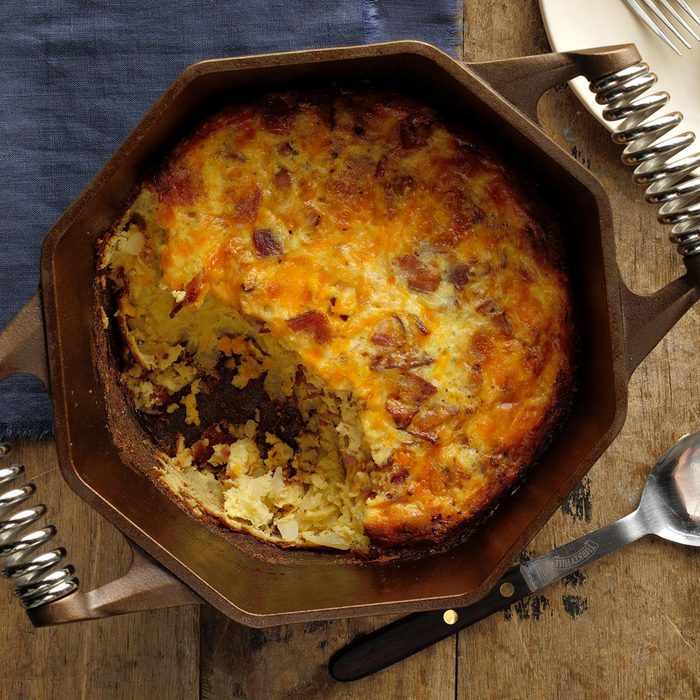 Ingredients
1 pound bacon strips, chopped
1 package (20 ounces) refrigerated O'Brien hash brown potatoes
8 large eggs
1/2 cup half-and-half cream
1/2 to 1 teaspoon hot pepper sauce, optional
2 cups shredded cheddar-Monterey Jack cheese
Directions
Prepare campfire or grill for medium-high heat, using 32-36 charcoal briquettes or large wood chips.
In a 10-in. Dutch oven, cook bacon over campfire until crisp, stirring occasionally. Remove with a slotted spoon; drain on paper towels. Discard drippings, reserving 2 tablespoons in pan.
Carefully press potatoes onto bottom and 1 in. up sides of Dutch oven. In a small bowl, whisk eggs, cream and, if desired, pepper sauce until blended. Pour over potatoes; sprinkle with cooked bacon and cheese.
Cover Dutch oven. When briquettes or wood chips are covered with white ash, place Dutch oven directly on top of 16-18 briquettes. Using long-handled tongs, place 16-18 briquettes on pan cover.
Cook 20-25 minutes or until eggs are completely set and cheese is melted. To check for doneness, use tongs to carefully lift cover. If necessary, cook 5 minutes longer.
Source: Taste of Home