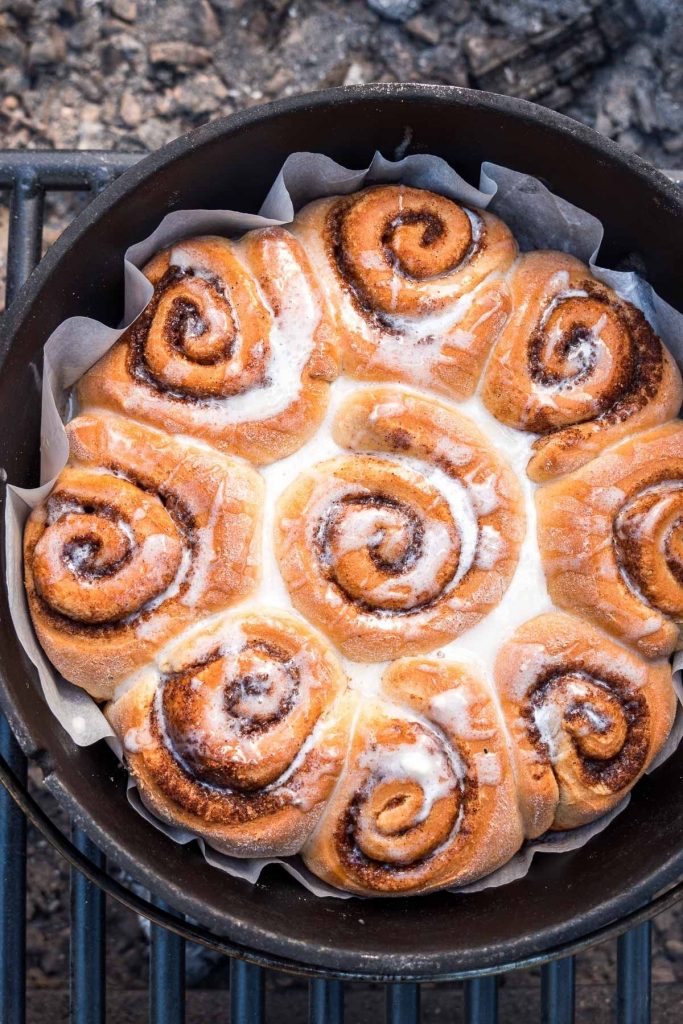 Ingredients
Dough
2 ½ cups flour,
3 tablespoons granulated sugar, 
2 teaspoons active dry yeast, or 1 packet
1 teaspoon cinnamon
½ teaspoon sea salt
¾ cup milk, preferably whole
4 tablespoons butter
1 egg
Filling
4 Tbsp butter, softened
⅓ cup brown sugar (packed),
1 tablespoon ground cinnamon
4 cardamom pods, crushed and husk removed
Icing Glaze
½ cup powdered sugar
1 tablespoons milk
1 tablespoon melted butter
Instructions
At Home
Combine the flour, granulated sugar, yeast, 1 teaspoon cinnamon, and ½ teaspoon salt to the bowl of a mixer. Add the milk and butter to a small bowl and warm in a microwave, 45-60 seconds, so that the butter is melted. Add the milk and butter to dry ingredients along with the egg.
Mix about 5 minutes on medium-low (4 on our Kitchen Aid mixer) until the dough is smooth and is no longer sticky. Transfer the dough to an oiled bowl and cover. Rest 10 minutes.
Meanwhile, prepare the filling. If using whole cardamom, crush the pods. using a rolling pin and cutting board, or a mortar and pestle. Remove the outer husks and use the rolling pin or pestle to further grind the cardamom. Combine in a small bowl along with the cinnamon and brown sugar.
Turn the dough out onto a floured surface and knead 2 or 3 times to bring it into a ball. Roll out into a rectangle about 12" by 8". Spread the softened butter evenly over the dough, followed by the cinnamon sugar mixture.
Starting with one of the long edges, roll the dough into a tight cylinder. Cut into 8-10, 1" rolls using a piece of unflavored dental floss. Slide the floss under the roll, then wrap it over the top. Pull the ends in opposite directions to cut through the rolls.
Place the rolls into a tupperware container that is lined with parchment paper. If you need to stack the rolls, place an additional piece of parchment paper between layers. At this time, you can also make the icing glaze: whisk ingredients together and transfer to a small container. Store the rolls and glaze in your cooler for up to two or three days.
In Camp
Remove the rolls from the cooler and arrange them in a 4-qt Dutch oven. Cover the oven and let the dough rise while you start your coals or campfire.
Once the coals are ready, place seven in a circle and place the Dutch oven on top. Place an additional 16 on the lid. Bake for 30-45 minutes, until the tops are golden. Remove from heat.
Mix the icing ingredients together (if not done at home) and drizzle over the rolls. Enjoy a fresh cup of camp coffee!