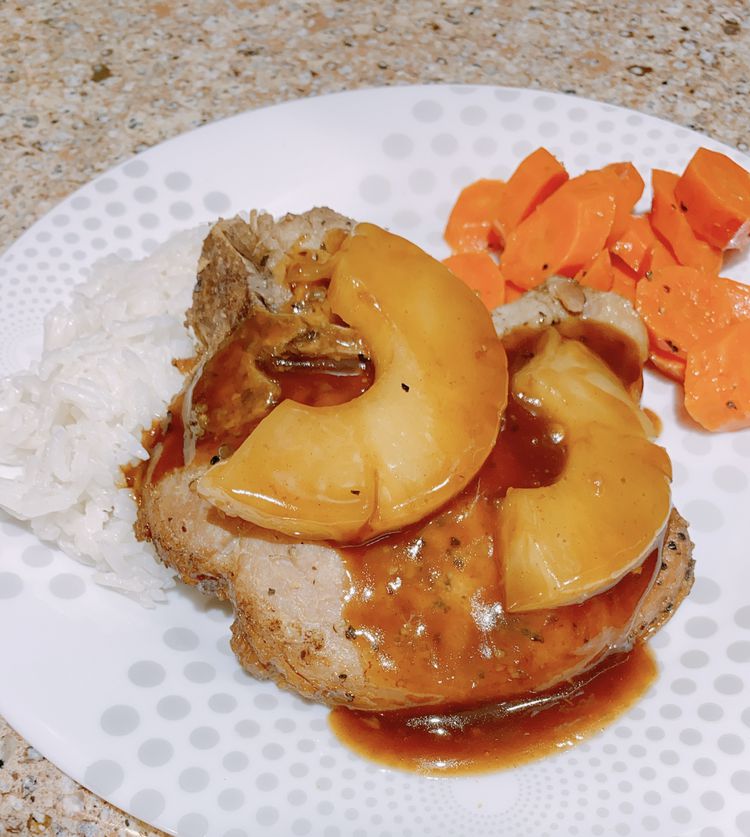 Ingredients
1 tablespoon vegetable oil
1 ½ pounds bone-in center-cut pork chops
1 teaspoon salt
¾ teaspoon granulated garlic
½ teaspoon ground black pepper
⅔ cup reduced-sodium soy sauce
⅓ cup water
3 tablespoons rice vinegar
3 tablespoons honey
3 tablespoons coconut sugar
2 tablespoons minced fresh ginger root
2 cloves garlic, minced
1 (8 ounce) can pineapple rings
3 tablespoons cornstarch
Directions
Turn on a multi-functional pressure cooker (such as Instant Pot®) and select Saute function. Add oil once the pot is hot.
Sprinkle both sides of pork chops with salt, garlic, and pepper. Sear pork chops in the hot oil until golden brown, 2 to 4 minutes per side. Add soy sauce, water, rice vinegar, honey, coconut sugar, ginger, and garlic. Mix to combine. Cancel Saute function.
Close and lock the lid. Select high pressure according to manufacturer's instructions; set timer for 8 minutes. Allow 10 to 15 minutes for pressure to build.
Release pressure using the natural-release method according to manufacturer's instructions, about 15 minutes. Release remaining pressure carefully using the quick-release method, about 5 minutes. Unlock and remove the lid.
Pour 1/3 cup pineapple juice from the can into a small bowl. Add cornstarch to make a slurry.
Remove pork chops from the pot and cover to keep warm.
Stir slurry into the liquid in the pot. Select Saute function and cook, stirring frequently, until sauce thickens, about 3 minutes. Add 1 pineapple ring per pork chop to the sauce. Serve each pork chop with 1 pineapple slice and teriyaki sauce.
Source: Allrecipe