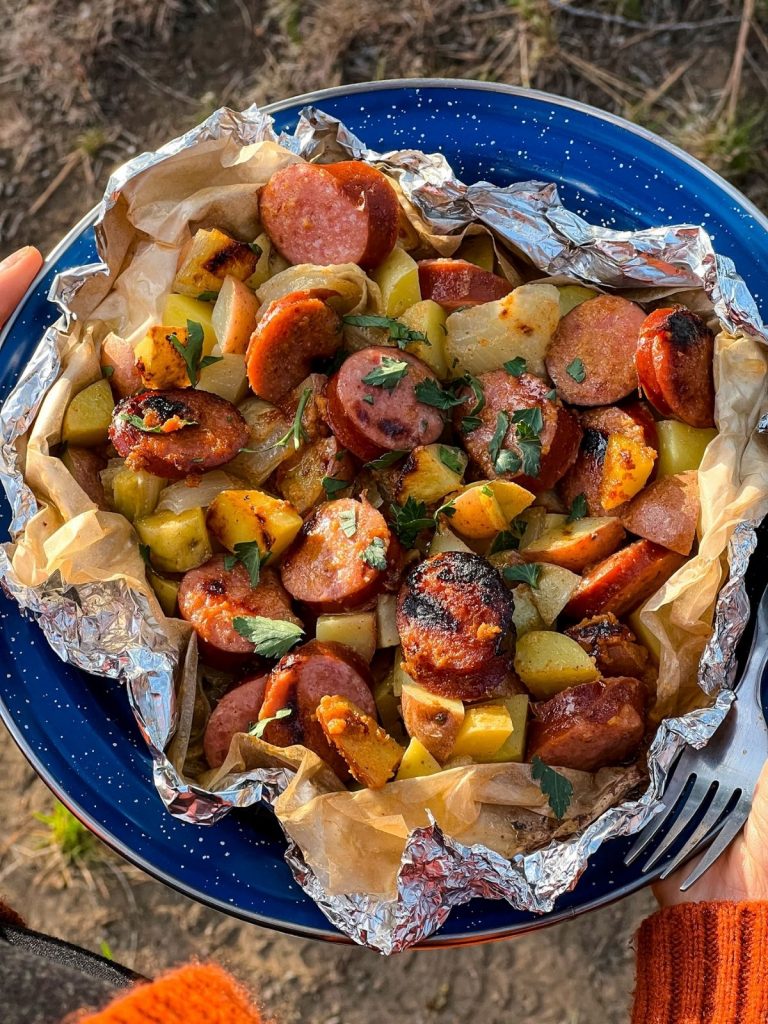 ngredients
14 oz kielbasa
24 oz small potatoes, heaping 4 cups
1 onion
2 teaspoons sea salt
1 teaspoon garlic powder
½ teaspoon paprika
4 tablespoons spicy mustard
2 tablespoons honey
2 teaspoons apple cider vinegar
4 tablespoons butter
parsley
Instructions
Slice the kielbasa into ½ inch rounds, cut potatoes into 1-inch pieces, and roughly chop the onion.
Tear 4 x 18" pieces of heavy-duty foil for each packet, along with 4 x 16" sheets of parchment paper for each. Layer the parchment paper on top of the foil.
Divide the kielbasa, potatoes, onions, salt & spices, sauce, and butter between the four sheets of foil.
To form the packets, bring one of the short edges of the foil to meet the other, then crimp around all edges to seal.
Cook the packets on a grill (or the grill grate over your campfire) for 18-22 minutes, flipping after 10 minutes, until the potatoes are tender.
Remove from the grill and let cool slightly. Open the packets carefully—they will be full of hot steam. Top with fresh parsley and enjoy!
Source: Fresh off the grid