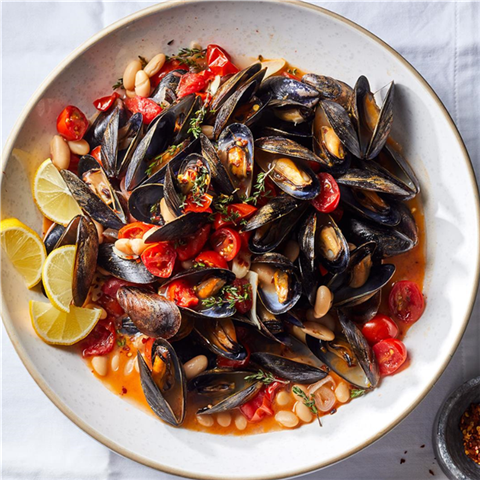 Ingredients
Ingredient Checklist
2 tablespoons extra-virgin olive oil
4 cups grape tomatoes, halved
1 medium shallot, sliced
3 cloves garlic, thinly sliced
1 teaspoon chopped fresh thyme, plus more for garnish
¼ teaspoon crushed red pepper
1 (15 ounce) can no-salt-added white beans, rinsed
2 pounds mussels, scrubbed and debearded if necessary (see Tip)
½ cup dry white wine
Lemon wedges for serving
Directions
Instructions Checklist
Heat oil in a large pot over medium-high heat. Add tomatoes and shallot; cook, stirring occasionally, until the tomatoes start to release their liquid, 1 to 2 minutes.
Stir in garlic, thyme and crushed red pepper; cook until fragrant, about 1 minute. Add beans and stir to combine.
Place mussels on top and pour in wine. Cover and cook until the mussels open (discard any unopened mussels), 5 to 6 minutes.
Serve with lemon wedges and garnish with more thyme, if desired.
Tips
Tip: To clean mussels, rinse very well under cold running water and use a stiff brush to remove any barnacles or grit from the shell. Discard any mussels with broken shells or any shells that remain open after you tap them lightly. Pull off any fibrous "beard" that might be pinched between the shells; the "beards" of most cultivated mussels are already removed.
Source: Eating Well