HAPPY FEATURE FRIDAY!
Luxury isn't an option, it's standard. It's an Alpine.
While we're all doing our part to "flatten the curve", it's a great time to brush up on product knowledge.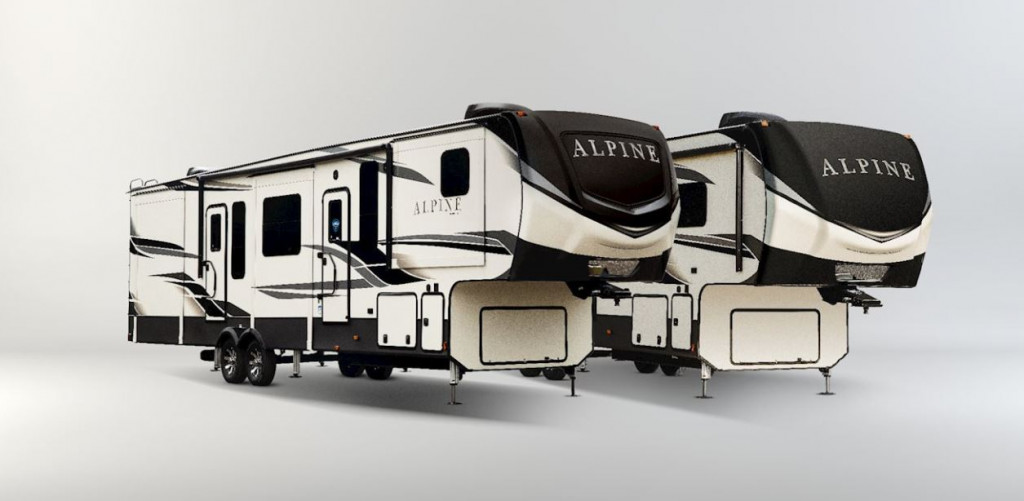 Alpine, Keystone's premier luxury fifth wheel brand, is designed for a new generation of discriminating campers who are looking for contemporary styling, innovative floorplans and modern amenities. Designed like no other RV in its class, Alpine has a residential feel with high ceilings—including nearly 7' tall slide-boxes, wider bodies, and panoramic frameless windows. Always ahead of the curve, Alpine truly takes extended-stay camping to new heights.
What are some advantages?
iN-COMMAND GEN 3 W/ GLOBAL CONNECT – You can have total control over HVAC, awnings, lighting, and monitoring system from a control panel or smartphone!
FURRION CHEF COLLECTION – Stainless steel three-burner cook top, oven w/ enhanced safety features, and 1.5 cu. ft. convection microwave.
DUAL WHISPER QUIET AIR CONDITIONERS – High-pressure 15,000 BTU units with Whisper Quiet Technology, standard on every Alpine.
HARDWOOD CABINETS – Alpine cabinetry features solid wood construction for doors and stiles, resulting in sturdier and more durable construction.
SOLID STEP BY LIPPERT COMPONENTS – Strut assisted, safe and secure entry step, with and extra-wide top step and patent-pending "Lift & Level" technology. Folds easily to stow inside the entry door.
POLAR PACK ALL SEASON PROTECTION – Alpine is tested and rated to -14 degrees Fahrenheit to help prevent water lines and tanks from freezing!
6-POINT HYDRAULIC LEVEL-UP SYSTEM – One-touch system with automatic leveling jacks and control panel for quick and easy setup.
OVERSIZED PASS-THROUGH STORAGE – Alpine units feature nearly 200 cu. ft. of easy-access storage.
EASY-ACCESS WATER WORKS CENTER – Fully enclosed and heated, provides easy access to all utility hook-ups.
DUTY G-RATED TIRES – Upgraded, higher-ply tired for maximum towing security and confidence!
PREMIUM ENTERTAINMENT – 50″ flat panel television, DVD players, and high definition stereo speakers, fire places and storage cubicles!
Would you like to know more about the Keystone Alpines? Want to take advantage of an Alpine deal we can do for you today? Give us a call or text at (518)-563-1983 and schedule an appointment today!

LOCATION HOURS: