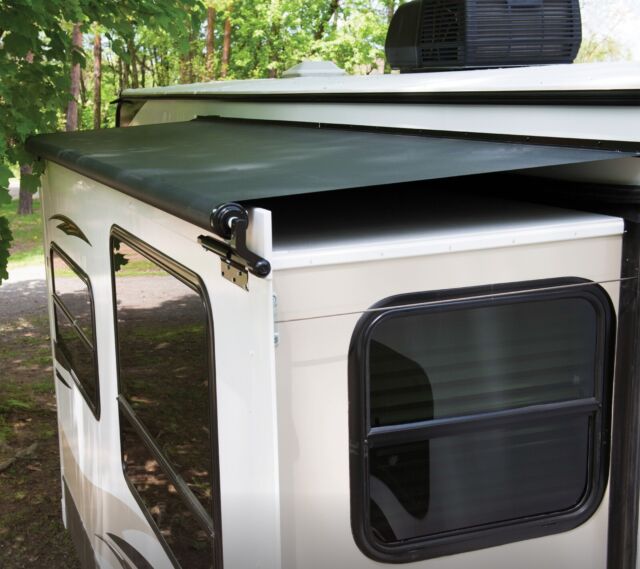 Whether you are new to camping or have been camping for years, you may wonder if slideout covers are worth the investment. Before you can answer that question, let's look at what slideout covers are, how they operate, their purpose and required maintenance. With this knowledge, you can ultimately see the great benefits of adding slideout covers to your investment.
Slideout covers are essentially awnings for your slideouts. The main mechanism is mounted to a rail on the side of your camper just above the slideout. The outer edge of the slideout cover is mounted to the outer corners of the slide itself, so that when you open it, the cover opens concurrently. They don't require any additional set up or power for operation – they simply move with the slideout as it is put out during camper setup.
No matter where you go with your camper, it will be exposed to nature's elements which can be intense at times to say the least. Slideout covers provide a layer of protection to your camper slide outs. Below are the benefits to slide out covers:
*They keep your slideout roof clean from debris and leaves.
*They keep your slideout seals cleaner which maintains proper movement of your slide out which in turn reduces unnecessary strain on your slideout motors.
*They are umbrellas for your slideouts directing water and even snow away from your camper keeping your camper drier because you are no longer retracting wet slide outs.
*They provide UV protection for the seals and caulk on the roof of the slideout from the damaging effects of the sun.
*They provide an extra layer of protection to your slideout against things like tree limbs and other falling objects during storms.
When you purchase at Plattsburgh RV Store, your camping specialist will take the necessary measurements for your slideout covers. From there, our certified technicians will complete the installation. As part of your camper orientation, you will receive all the details for proper operation and maintenance of your slideout covers. At Plattsburgh RV Store, we are committed to the success of your camping experience as well as assisting you in understanding how to maintain the integrity of your investment for years to come. We look forward to continuing to provide exceptional service to you from start to finish.