3 Cozy Winter Cocktails
Source: Fresh off the Grid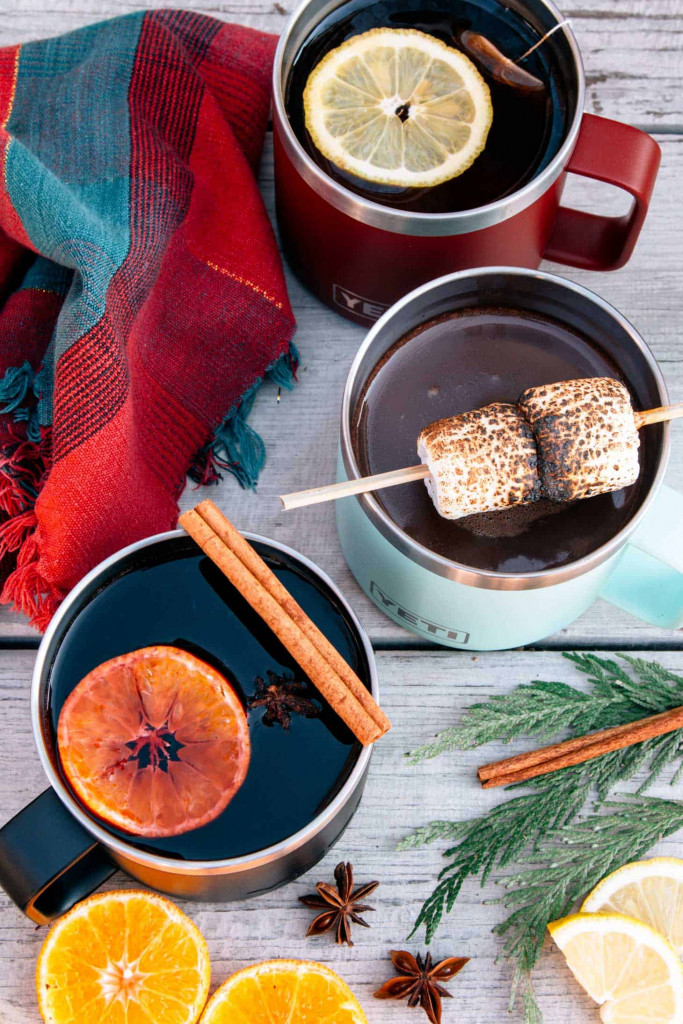 With winter ramping up, who couldn't use a nice, warm drink to take the edge off?
Check out these 3 cozy winter cocktails will help warm you up this winter while keeping you in good spirits all season long.
All three of these recipes can be scaled so you can easily make enough for a crowd, or keep things simple and enjoy a mug with a friend.
Irish Hot Chocolate
This boozy, rich hot chocolate is a cinch to make and tastes a million times better than the average powdered cocoa mix.
For two servings:
3 cups milk
2 tablespoons sugar
2 tablespoons cocoa powder
1/4 cup chocolate chips (or chopped chocolate)
3 oz. Irish cream, divided
Toasted marshmallows
Pour the milk into a small pot and gently heat over medium-low until steamy. Whisk in the sugar, cocoa powder, and chocolate chips.
Split between two mugs, then add 1.5 oz Irish cream to each. Stir to combine. Serve with a toasted marshmallow and enjoy!
Mulled Red Wine
Simmer this on the back burner while you cook dinner and the aroma will definitely put you in the holiday spirit.
For four servings:
1 bottle red wine
1/4 cup maple syrup
1 orange, cut into 4 wedges
2-inch piece of ginger, sliced
4 pods star of anise
1 tablespoon whole cloves
Pour the wine and maple syrup into a pot. Squeeze the juice of the orange into the wine, then add the spent oranges, sliced ginger, star of anise, and whole cloves to the pot. Simmer over medium-low heat for about 30 minutes.
Divide between mugs and enjoy!
Whiskey Spiked Chai Hot Toddy
Hot toddies are one of our favorite winter nightcaps. The warming spices of black chai tea make this version especially cozy.
For two servings:
3 cups water
1 tag chai spiced black tea
2 tablespoons honey, divided
3 oz. whiskey, divided
1 small lemon, cut into slices
Bring water to a boil, then remove from the heat and add the tea bag. Steep 2-3 minutes.
Pour 1 tablespoon honey into each mug. Divide the tea between the mugs, then add 1.5 oz whiskey to each. Stir to combine.
Serve with a slice or two of lemon.
TEMPORARY BUSINESS HOURS:
WE'RE OPEN FOR BUSINESS! HOWEVER, WE'RE CURRENTLY HAVING TEMPORARY BUSINESS HOURS DUE TO THE COVID-19 PUBLIC HEALTH CRISIS. FOR INQUIRIES REGARDING SALES & FINANCING, PLEASE EMAIL JOHN LABARGE AT JL@PLATTSBURGHRVSTORE TO MAKE AN APPOINTMENT TODAY!