Campfire Banana Boats 9 Different Ways!
Source: Fresh Off The Grid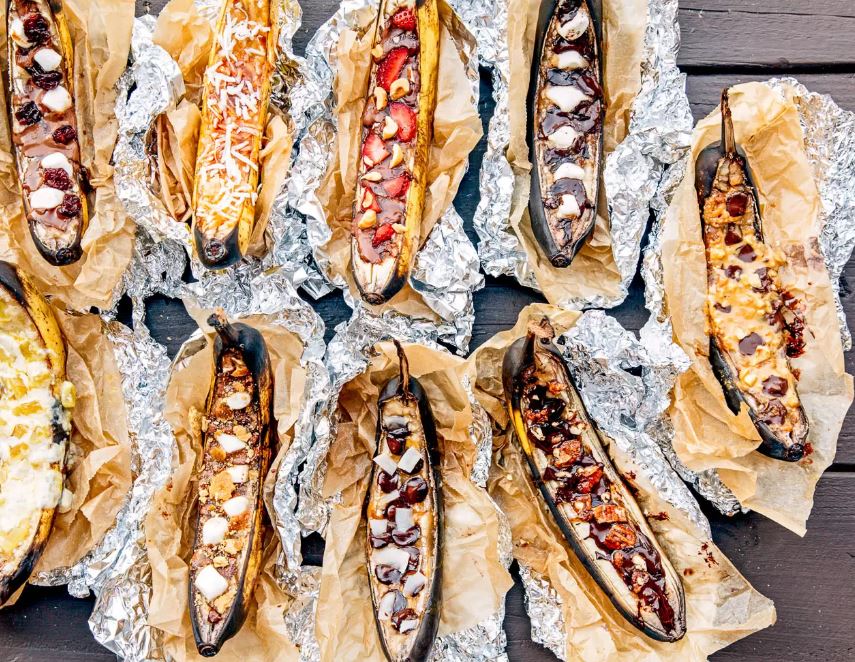 Spice up your deserts with a fruity twist! Get bananas for these delicious banana boat's from Fresh Off The Grid! Which one is your favorite?
CLASSIC S'MORES: Banana + Milk Chocolate + Mini Marshmallows + Crumbled Graham Crackers
STRAWBERRY HAZELNUT: Banana + Strawberries + Nutella + Chopped Hazelnuts
SAMOAS: Banana + Chocolate Chips + Caramel Sauce + Toasted Coconut
DULCE DE LECHE: Banana + Chocolate + Dulce de Leche sauce + Coconut shreds
VEGAN: Banana + Dark Chocolate + Dandies Mini Marshmallows
PB & C: Banana + Peanut Butter + Chocolate Chips
HONEY GINGER: Banana + Honey + Candied Ginger + White or Dark Chocolate
BANANA SPLIT: Banana + Milk Chocolate + Marshmallows + Cherries
PECAN PRALINE: Banana + Pralines + Dark Chocolate
Ingredients
Classic Banana Boat
1

 

banana

2

 

tablespoons

 

milk chocolate

, 

(chopped from bar or chocolate chips)

8

 

mini marshmallows

1

 

graham cracker square
Instructions
Take a banana with its peel still on and cut it down the middle (along the concave side). Not all the way through, but until the tip of your knife just grazes the peel on the other side. Pull the peel and banana slightly apart.

Stuff the chocolate and mini marshmallows (or other fillings, see notes) into the center of the banana.

Wrap the banana in foil. Place on a campfire or grill until fillings have melted and banana has warmed through, about 10 minutes.

Unwrap banana and top with crushed graham cracker. Enjoy!