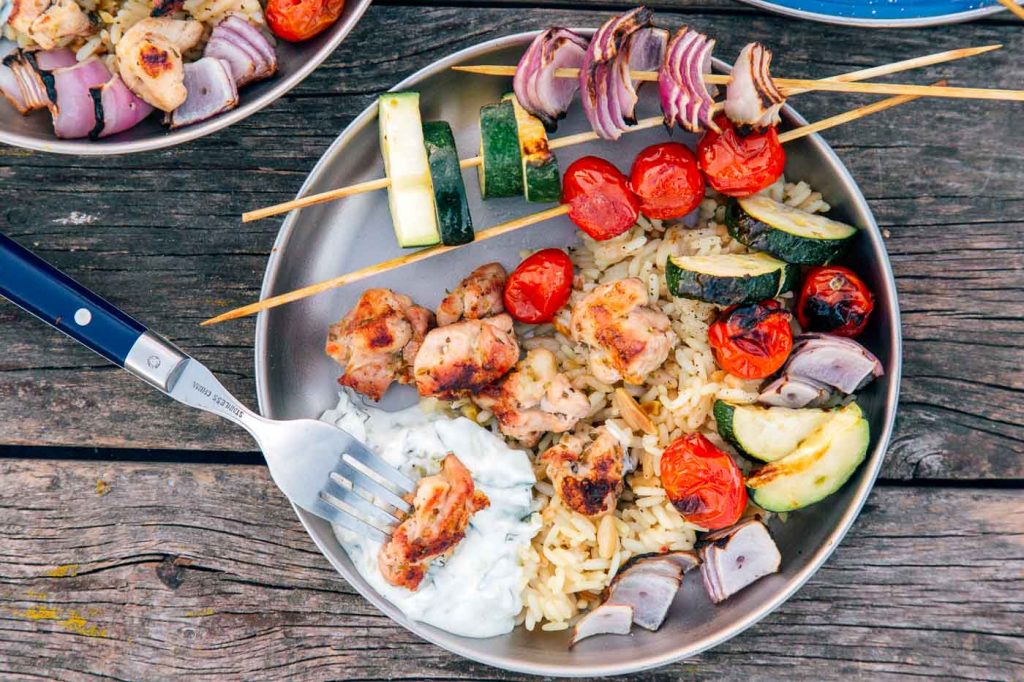 Ingredients
2 tablespoons olive oil
1 lemon, juiced
1 tablespoon dried oregano
½ teaspoon garlic powder
½ teaspoon salt
4 boneless skinless chicken thighs, cut into 1" pieces
1 small zucchini, sliced into 1/4" moons
1 red onion, chopped
14 cherry tomatoes
½ cup prepared tzatziki, store-bought or recipe as follows
Tzatziki Sauce
½ cup Greek yogurt
¼ cucumber, seeds removed & chopped fine
1 tablespoon chopped fresh mint
2 cloves garlic, finely minced
¼ teaspoon salt
Instructions
Mix the olive oil, lemon juice, oregano, garlic powder, and 1/2 teaspoon salt together in a bowl. Add the chicken and toss to coat. Set aside for 30 minutes (up to 2 hours) to marinate, tossing occasionally.
To make the tzatziki (can be made ahead):
Remove excess moisture from the chopped cucumber by blotting with a towel. Place the cucumber, Greek yogurt, mint, garlic, and salt in a small bowl and mix to combine.
Cover & store in your cooler if making ahead of time.
Prepare a grill or campfire for grilling.
Thread the chicken and vegetables onto skewers.
Once the grill is ready, place the skewers on the grill grate and grill, turning every few minutes so all sides cook evenly. The chicken will need to cook 3-5 minutes per side, and the veggies will need roughly 10-12 minutes.
Remove skewers. Serve with tzatziki for dipping. Enjoy!
Source: Fresh off the Grid