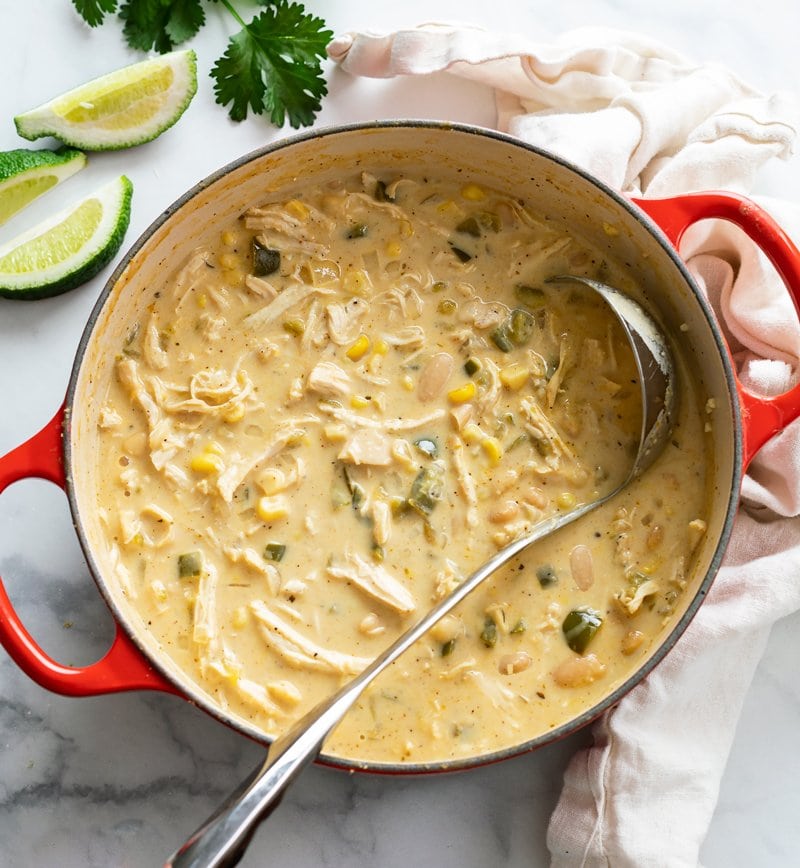 Ingredients
Seasonings
1 teaspoon chili powder
½ teaspoon each: ground cumin, dried oregano, salt, mustard powder
1/4 teaspoon black pepper, cayenne pepper
1 pinch red pepper flakes
Chili
3 tablespoons butter
1 yellow onion, diced
1 large jalapeno pepper, seeded and diced
4 cloves garlic, diced
3 tablespoons flour
6 cups chicken broth
1/3 cup half and half, (half milk, half cream)
2 (15.5 oz.) cans cannellini beans, drained
1 teaspoon Hot Sauce
1 teaspoon Worcestershire sauce
2 (4 oz.) cans mild green chilies
1 ½ lbs. bone-in skinless chicken breast, see notes
Salt/Pepper
1 (15.25 oz.) can whole kernel sweet corn, drained. Can sub frozen corn.
8 oz. cream cheese, softened
Directions
1. Combine the seasonings and set aside.
2. Melt the butter in a 4 1/2-quart pot. Add the diced onions and jalapeno pepper and cook for 5 minutes. Add the garlic and cook for 1 minute.
3. Add the flour and toss to coat. Cook for 2 minutes, until raw flour smell is gone.
4. Add the chicken broth in small splashes, stirring continuously. Add the half and half in the same manner.
Optional: Reserve 1 heaping cup of drained beans and combine it with ½ cup broth. Blend in a food processor, blender, or immersion blender. Add it to the soup along with the remaining whole beans. (This helps to thicken the broth. Otherwise, all beans can be added whole.)
5. Add the seasonings, hot sauce, Worcestershire sauce, and green chilies. Bring to a boil. Let it boil for 15 minutes, uncovered, then reduce to a simmer.
6. Season each side of the chicken with salt/pepper. Add the chicken and the corn to the pot and let it simmer gently for 15-20 minutes, uncovered. (Cooking too rapidly will make the chicken tough.) Stir throughout cooking to lift any beans that may have settled to the bottom.
7. Remove the chicken and shred it once cooked through. Return it to the pot.
8. Reduce heat to low and stir in the softened cream cheese. Stir continuously until the cheese is fully melted into the chili.
9. Taste and adjust seasonings as needed. Serve with cornbread!
Source: The Cozy Cook