It's that time of year again, camping season is opening up in the Adirondacks, and campers all over are preparing their rigs for summertime fun. After a long winter storage period, it is important to remember some key components to cleaning and maintaining your camper for the upcoming season.
SPRING CLEAN THE EXTERIOR –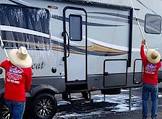 Whether you have a fiberglass or aluminum exterior on your camper, keeping the "like new" shine should be an important part of your spring cleaning. For this, you should consult your owner's manual for any specific instructions the manufacturer may have for your particular camper. However in most cases, a proper cleaning can be done with a good soft bristled brush, a pail, and good RV cleaning solution. Do you have tough black streaks on your sidewalls? Pick up some black streak remover for those especially stubborn spots. You can find all of the above at our parts & accessories store located at 240 Tom Miller Road here in Plattsburgh!
These pointers for cleaning the exterior of your camper will help to make it a little easier on you:
1. Park somewhere that you have easy access to all four sides of the camper
2. Make sure you're in a location with access to plenty of water, you will use quite a bit
3. Wash from roof to tires, top to bottom
4. Wash and rinse your camper in small sections so that the soap does not dry out.
TREATING YOUR ROOF AND TIRES:

Tire and roof health are very important for your RV as prolonged exposure to weather can have a drastic effect on these components. Tires can be treated with a rubber protectant, which helps to keep them from cracking due to weather checking.
Your roof is one of the most important components to maintain on your camper to prolong it's lifetime. Most camper roofs are a seamless membrane made of rubber or a rubber-like material (TPO, EPDM, etc.). Each different type has its own process for treatment, but it is important for all of them to at least be clean. You can pick up specialized rubber roof cleaner at our parts & accessories store, or through our online catalog. Some types of roof membrane also require UV treatment – If your camper does require it, it is imperative that this treatment is regularly completed. Protecting your camper roof from the sun should be a big part of your spring cleaning checklist.
Stop by our parts & service center at 240 Tom Miller Road here in Plattsburgh with any questions you may have about cleaning and caring for your RV. Our friendly parts & service specialists will be happy to assist you in finding the right products for your camper!