Why Choose Plattsburgh RV Store?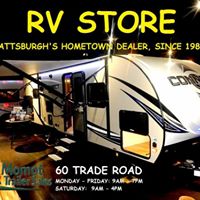 Selecting the perfect RV, should be more than just the click of a button.  That's why, Plattsburgh RV Store is dedicated to bringing the camping experience, to you.  From our One-of-a-Kind Indoor Showroom, to our Dedicated and Qualified Staff, along with our Commitment to Service after the Sale, our customers are finding out why we have been the North Country's Hometown Dealer, since 1982.

Since then, Plattsburgh RV Store dba Plattsburgh RV Store has been dedicated to building a team of well-trained individuals, passionate about professionalism, and the RV Industry.  Our staff is dedicated to understanding all of your camping needs:  whether you're a first-time camper, a seasoned vet, or just passing through and looking for parts and service.  Our team takes great pride in their helpfulness and friendliness, just as if you were part of our family. 

In 2016, Plattsburgh RV Stores' commitment to the camping experience took a significant step forward.  A project at 60 Trade Road, in Plattsburgh, NY, to bring the camping experience to you, first hand, began with the development of an Indoor Showroom, fashioned to bring the outdoors, inside.  You can experience the sights and sounds of the campground, before even heading outdoors.  

Our Huge Selection will impress first-time and seasoned buyers.  We are proud to carry an unparalleled selection of new and pre-owned Travel Trailers and 5th Wheels.  Our Camping Specialists are dedicated to staying up-to-date on all of our Keystone, Dutchmen, KZ, inTech, and Glacier products.   

All new product, and most pre-owned inventory, is backed by our Nationally-Recognized Certification Process.  The certification process has grown to more than a 270-point checklist.  Our highly-skilled Service Department is steadfast in providing you with a peace of mind, when you pull away with your new or pre-owned camper. 

When you pull away, you will be a Member of the Priority RV Network.   Priority RV Network is North America's largest RV Service Network, with 196+ Dealerships in the Continental US and Canada.  That is 196+ locations, ready to service your RV, if you have a major emergency service problem. Before you make an RV purchase, you have to ask yourself the big question:  Where will I get my service, if I am 100 miles from home?

Our friendly and knowledgeable sales, financing, service, and parts departments, will make sure you experience a difference and have an exceptional buying experience you can trust!  We want to make sure all you have to worry about, is enjoying your trips to the  campground.  From the moment you walk in our doors, until long after your tail lights leave our lot, we want you to be part of our family.