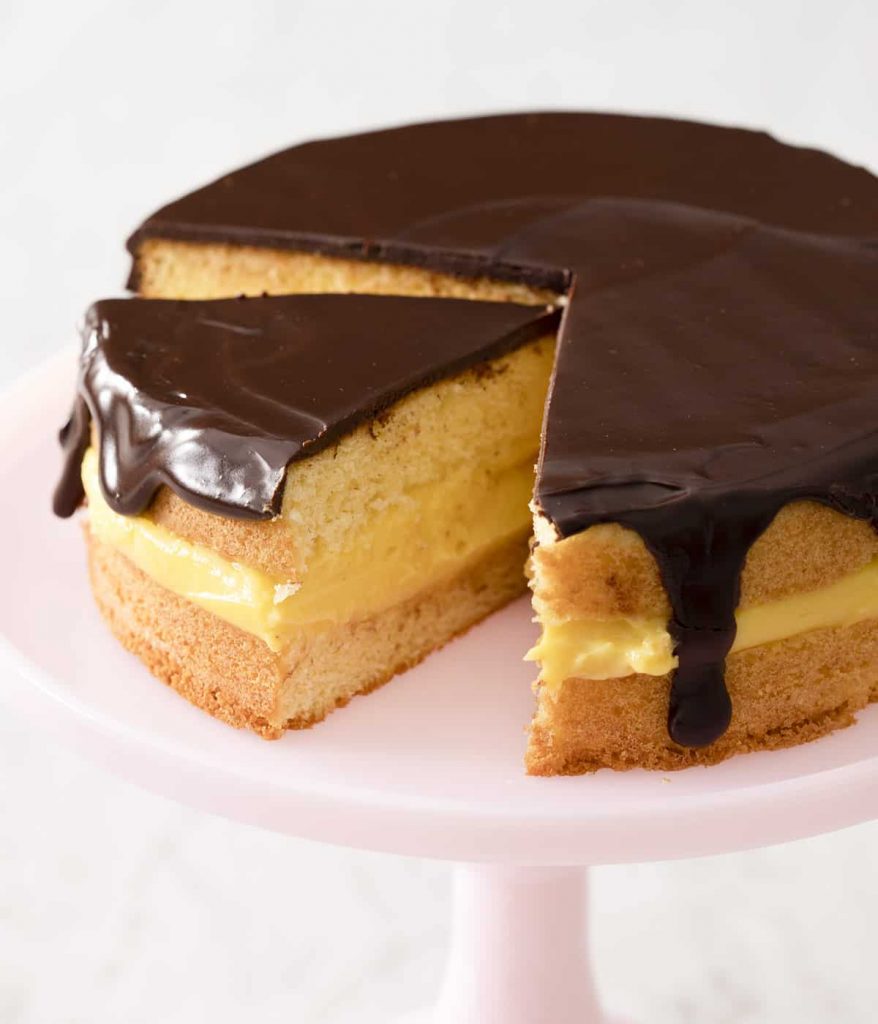 Ingredients
 2 large eggs room temperature
 1 cup cane sugar 
 ½ cup whole milk 
 5 tablespoons unsalted butter 
 1 cup all-purpose flour plus 2 tablespoons,
 1¼ teaspoons baking powder
 ¼ teaspoon kosher salt
 2 teaspoons vanilla extract
 ¼ cup heavy whipping cream 
 4 ounces bittersweet chocolate chopped
Pastry Cream
 6 egg yolks room temp
2/3 cup sugar
1/4 cup corn starch
1 tbsp vanilla extract
2 cups whole milk 
1 tbsp butter 
Instructions
For the Pastry Cream
Pour the milk into a medium saucepan, heat then place over medium heat and bring to a boil. Immediately turn off the heat and set.
In a large bowl, whisk the egg yolks and sugar until light and thickened. Sift in the cornstarch and whisk vigorously until no lumps remain. Whisk in 1/4 cup of the hot milk mixture until incorporated. Whisk in the remaining hot milk mixture, reserving the pot for later.
Pour the mixture through a strainer back into the pot. Cook over medium-high heat, whisking constantly, until thickened and slowly boiling. Cook while whisking for an additional minute or two after thickened and boiling.Remove from the heat and stir in the butter. Let cool slightly then cover with plastic wrap, lightly pressing the plastic against the surface to prevent a skin from forming. Chill in the refrigerator.
For the Cake
Preheat oven to 350F. Spray a 8-inch round cake pan with baking spray or butter and flour it. Line bottom with parchment paper and spray again.
Combine flour, baking powder and salt in a bowl, then whisk together and set aside. 
In a stand mixer fitted with a whisk attachment or large mixing bowl if using a hand mixer, add eggs and sugar. Beat on medium speed until pale, thick, and fluffy, about 4 minutes. (Beater should leave a trail in eggs when lifted.)
Meanwhile, in a glass measuring cup, combine milk and butter. Microwave on high in 30 second intervals until butter is melted and milk is steaming. 
With mixer on low speed, gradually add flour mixture to egg mixture, beating just until combined. Stir vanilla into hot milk mixture. Slowly pour hot milk mixture into egg mixture beating until fully combined. (Batter will look like thick pancake batter and have bubbles on top.) Scrape the sides of the bowl and fold batter a few times to insure it's fulling combined. Pour batter into the prepared cake pan.
Bake until a toothpick inserted in center comes out clean and cake begins pulling away from sides of pan, about 33 minutes. Let cool in pan for a few minutes then invert onto a wire rack to cool completely.
For the Assembly
Cut cake in half horizontally. Place bottom half, cut side up on a serving plate. Spread the chilled, thickened pastry cream over cake, leaving a 1 inch border. Top with remaining cake half and gently press down to spread filling to edge. Place in fridge and chill for at least 2 hours or overnight; cover with plastic or a cloche if chilling for more than two hours.
For the Ganache
When ready to serve, place cream in a microwave-safe bowl; microwave cream and optional corn syrup until steaming, about 1 minute. Add chopped chocolate and let stand for 5 minutes. Stir chocolate and cream mixture until smooth. Pour over top of cake, spreading to edges
Source: Preppy Kitchen