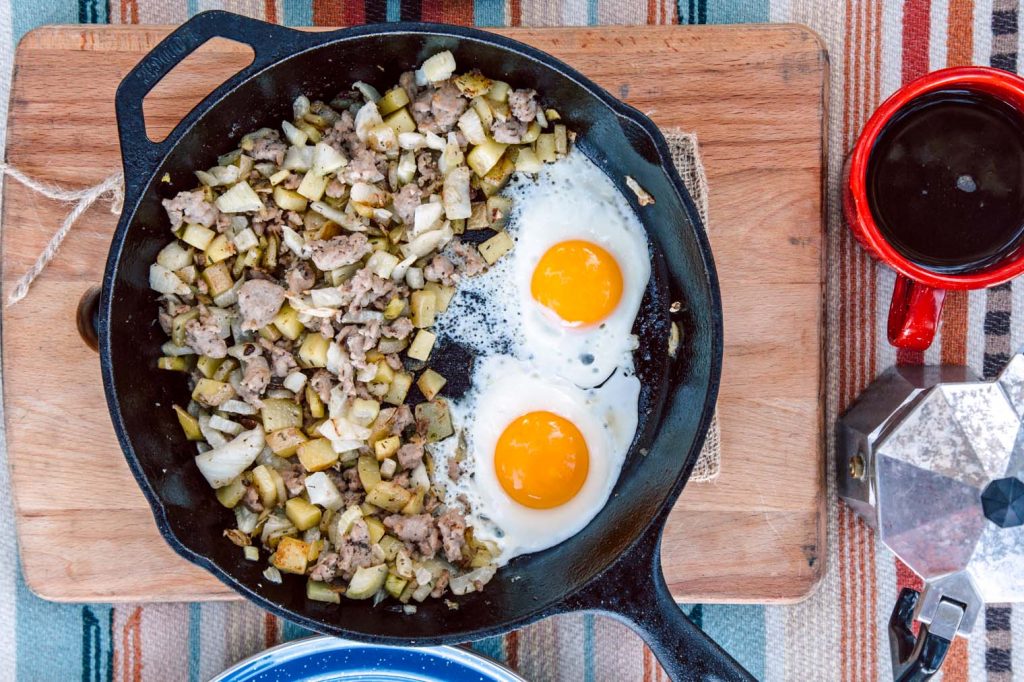 Ingredients
1 bulb fennel
1 medium Yukon gold potato
6 sausage links, (chicken or pork)
2 tablespoons oil
½ teaspoon dried thyme
½ teaspoon salt
2 eggs
Instructions
PREP THE VEGETABLES: Chop the fennel and potato into ½-inch dice.
COOK THE VEGETABLES: Heat the oil in a skillet over medium-high heat. Add the fennel and potatoes and cook for 10 minutes, stirring occasionally.
COOK THE SAUSAGE: Crumble the sausages into the skillet with the vegetables and add the thyme and salt. Sauté until the sausage is browned and cooked through and the potatoes are tender, about 7 minutes.
ADD THE EGGS:  Once the hash is almost ready, create a well and drop in your eggs. Reduce heat and cover with a lid, a sheet of foil, or a large plate. The heat from the pan will cook the eggs from the bottom and the trapped steam will cook them from the top. It takes about 2-3 minutes to cook the eggs so that the whites are firm, but the yolks are still runny.
SERVE & ENJOY!
Source: Fresh off the grid