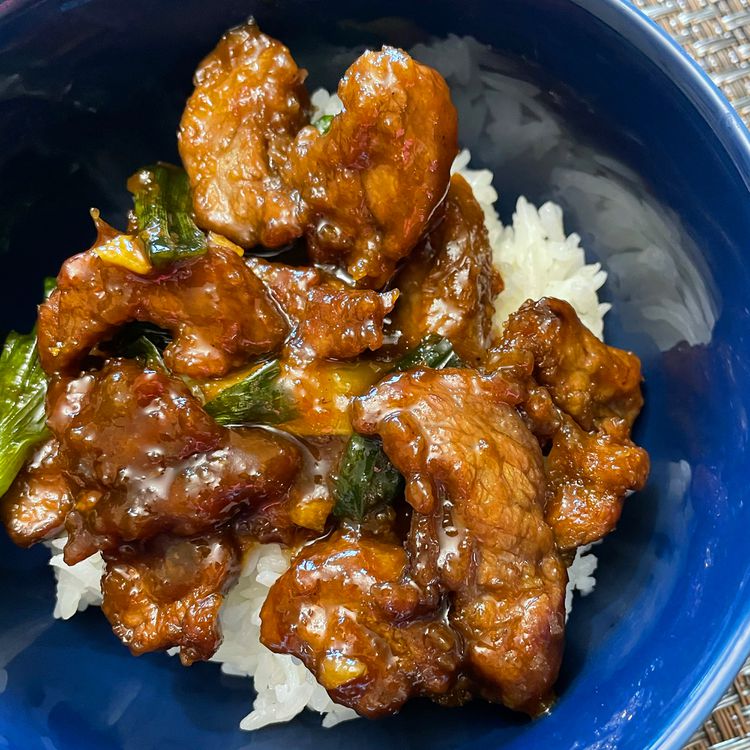 Ingredients
2 teaspoons vegetable oil
1 tablespoon finely chopped garlic
½ teaspoon grated fresh ginger root
⅔ cup dark brown sugar
½ cup soy sauce
½ cup water
1 pound beef flank steak, sliced 1/4 inch thick on the diagonal
¼ cup cornstarch
1 cup vegetable oil for frying
2 bunches green onions, cut in 2-inch lengths
Directions
Heat 2 teaspoons of vegetable oil in a saucepan over medium heat. Add garlic and ginger; cook and stir until fragrant, about 30 seconds. Stir in brown sugar, soy sauce, and water. Increase heat to medium-high; stir until sauce boils and slightly thickens, about 4 minutes. Remove sauce from the heat and set aside.
Place beef into a large bowl; add cornstarch and mix until beef is thoroughly coated. Set aside until most of the cornstarch has been absorbed, about 10 minutes.
Heat vegetable oil in a deep skillet to 375 degrees F (190 degrees C).
Shake excess cornstarch from beef slices and drop into hot oil, a few at a time, stirring briefly and frying until edges become crisp, about 2 minutes. Remove beef with a large slotted spoon; drain on paper towels.
Remove excess oil from the skillet, then heat the skillet over medium heat; add beef slices and stir in prepared sauce. Add green onions and bring to a boil; cook until the onions have just softened and are bright green, about 1 to 2 minutes.