NYSDEC Announces to #PlaySmartPlaySafePlayLocal
Summer's here and it's time to get outside safely and responsibly. During the COVID-19 public health crisis, take the #PlaySmartPlaySafePlayLocal pledge. Also, keep in mind that you can still camp this year while practicing social distancing. Due to the Covid-19 public health crisis, many families are reevaluating their vacationing dollars and picking out an RV for their next adventure!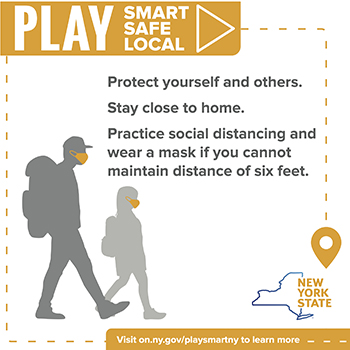 PLAY SMART * PLAY SAFE — Practice social distancing, wash your hands, wear a mask to protect yourself and others. If it's crowded, find somewhere else to go. There are plenty of trails, hikes, and so much more to do in and around the Adirondack region. If you're staying around here, check these out! Share a photo with us in our Community section on Facebook. We love hearing from you!
PLAY LOCAL — Stay close to home and #RecreateLocal in your region — amenities like restrooms and restaurants may not be open. However, things are slowly starting to open back up so be sure to check out the CDC and local agencies for the latest updates. Wanting to #RecreateLocal? Did you know that Blue Haven Family Campground & Resort is open? Well we are and we've been practicing social distancing since day 1 on May 1st! Although the bath houses, pool, and other common areas are closed, sites are open for you!
PLAY SMART — plan ahead. Make a list of alternate destinations and places to visit. Make Blue Haven Family Campground & Resort one of your places to stop!
PLAY SAFE — stay home if you're sick or if you're part of a vulnerable population. Not sure if you're sick or are part of a vulnerable population? You can find out today by visiting the Centers for Disease Control's website.
Check DEC's website to see the current status of DEC campgrounds
TEMPORARY BUSINESS HOURS:
WE'RE OPEN FOR BUSINESS! HOWEVER, WE'RE CURRENTLY HAVING TEMPORARY BUSINESS HOURS DUE TO THE COVID-19 PUBLIC HEALTH CRISIS. FOR INQUIRIES REGARDING SALES & FINANCING, PLEASE EMAIL JOHN LABARGE AT JL@PLATTSBURGHRVSTORE TO MAKE AN APPOINTMENT TODAY!