Air Conditioner Tips
Near and around the Plattsburgh area and Adirondack region, we're expecting mid-80 to mid-90 weather this weekend so let's make sure we're doing everything we can to stay cool! Not only that, but when your A/C is running properly, it can have a great effect on how things in your camper run too! From cooling your rig, quieting the excessive noises from a failing AC, inspecting your RV Air-conditioner can help your RV  in a big way! These are easy inspections to troubleshoot the common air conditioning issues in an RV. Moreover, if there has been regular power fluctuations, chances are your RV AC is damaged already so you might want to take a look! If that's the case, you can reach our service department by calling or texting us at (518)-563-1983.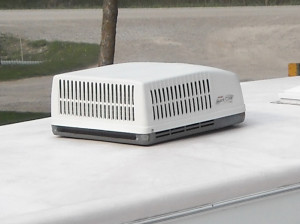 These tips come from RVing.how, be sure to check the out today! They provide fellow campers like us with fantastic servicing tips, part recommendations, recipes, and much more! Here are 6 Tips to Keep Your Air-Conditioner In Check:
Check if you tripped the breaker. Invest in a multimeter and test the voltage coming into the RV.
If the AC not keeping the air cool in your RV, AC unit could be old or the air filters, fins, and coils are dirty!  This is because a build up of grime can dramatically decrease the efficiency of your AC unit.
If you use your AC often, the filters should be cleaned at least once a month. Wash them gently with warm water and let them air dry
Get to the roof. Find a safe way to climb on the top of your RV's roof. Unscrew the bolts and detach the shroud from your air conditioner unit and set it aside. Vacum out the dust. Spray the coils with an air-conditioner coil cleaner.
Checking the Thermostat. The first place to look when you notice your RV air conditioner is not working properly is the thermostat. Make sure you have it set to the right temperature. Next, take a look to see if your air conditioner thermostat is powered correctly. If operated by a battery, check to see that the battery is still functioning properly. If operated by a hard wire, check the fuse or the circuit box.
Check the Fluids. Take a walk around the condensing unit of your RV air conditioner. Do you see any signs of leaking? If you do see liquids coming out of the condensing unit you likely have a leak with your condensing fluid or freon. If this is the case, you will need to stop the leak and replace the air conditioner fluids appropriately to return the unit to a cold air flow.
Still having issues? Reach out to us today! Our state of the art service department is staffed with highly trained technicians dedicated to making sure your camper stays in great working order for years to come. Here at Plattsburgh RV Store, we know that getting out on the road and enjoying our great country is your priority, and we will help keep you traveling in comfort and style.
We have the equipment and experience to get your camper in prime shape, and that means more road time for you. Give us a call and we'll get you in and out of the shop in an efficient and timely manner, so you can get back to experiencing the freedom that the camping lifestyle provides.
TEMPORARY BUSINESS HOURS:
WE'RE OPEN FOR BUSINESS! HOWEVER, WE'RE CURRENTLY HAVING TEMPORARY BUSINESS HOURS DUE TO THE COVID-19 PUBLIC HEALTH CRISIS. FOR INQUIRIES REGARDING SALES & FINANCING, PLEASE EMAIL JOHN LABARGE AT JL@PLATTSBURGHRVSTORE TO MAKE AN APPOINTMENT TODAY!