Blue Haven Campground Family Campground & Resort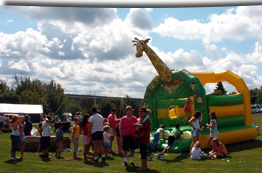 Blue Haven Family Campground and Resort is located in the foothills of New York's Adirondack Mountains on Lake Roxanne in the friendly little hamlet of Ellenburg Depot.
Whether it's Fishing, Hiking, Biking, Golfing or just hanging out, the region is one of the most robust areas for outdoor recreation in the Northeast. The Majestic North Branch of the Great Chazy River runs directly through the center of the property.
The Campground is 110 acres of natural beauty, which gives plenty of room for its 360+ large grassy full service sites and many amenities. The campground has a well trained professional team with an extra ordinary focus on cleanliness, friendliness and customer service.
Campground reservation form