Fifth Wheels are a great choice for those looking for a more spacious towable camper.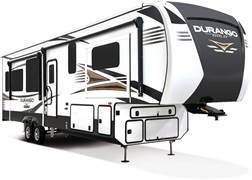 Roominess
The larger size of the Fifth Wheel allows for multiple slideouts leading to a more spacious interior. Taller ceilings make the Fifth Wheel feel more like home while traveling.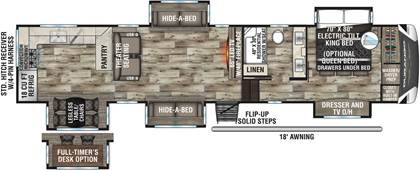 Interior / Exterior Storage
Fifth Wheels have an abundant amount of storage. Whether you're camping in Plattsburgh NY or your favorite campground, you will be ready when the weather changes with more wardrobe space. You won't have to worry about running out of groceries with the larger pantries and fridges. With larger exterior pass thru storage compartments, you will be able to bring more chairs, outdoor games, and still have ample room for the must haves.
Towing
Placing a fifth wheel hitch inside the center of a pickup truck bed over its axles allows for the towing of larger and heavier camper. If your trying to maneuver through the Adirondacks, or downtown Plattsburgh, driving will be easier, when it comes to turning, backing up, or hitching compared to a Travel Trailer . Finally, the dreaded sway that happens when side-forces and a poor tow connection overtake a trailer is a non-issue for fifth wheel owners.

Ready to shop for new or used Fifth Wheels? Whatever your camping needs are, the friendly knowledgeable industry expert staff at Plattsburgh RV Store can assist you. Plattsburgh RV Store, "Experience the Difference"