It's no secret that RVing comes with a substantial learning curve – each trip tends to teach you something more, whether it's a handy hack or more "do's and don'ts" of the road. Brand new to the world of camping? Take a look at some of this commonly used RV lingo & terminology that will help you get through RV 101!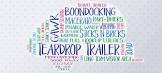 Boondocking:
This refers to camping without any services, also known as Roughing It or Dry Camping. Campers who are boondocking are at campsites or areas that do not have any external source of water, electricity, or waste-water removal.
LP:
Liquid Propane, the gas that fuels your range, oven, furnace, and sometimes water heater/refrigerator. Located on the tongue in travel trailers, and typically in a side compartment on fifth wheels.
Black Tank:
Your waste-water tank located in the underbelly of your camper. Anything flushed down your toilet goes to the black tank.
Grey Tank:
AKA a "galley" tank, this is where anything going down your sink or shower drain, goes. Most campers have one grey tank, but some do have two depending on the layout.
Full Hookup:
This indicates a campsite that has all services – water, electricity, and sewer.
Basement:
This refers to the storage area located below a fifth wheel or motorhome.
Dump Station:
A location, typically at a campground, where you are able to dump and flush your black & grey water tanks.
Refer:
Shortened term for the RV refrigerator
Rig:
Another term for an RV, whether it's a fifth wheel, travel trailer, or motorhome.
Shore Power:
Electricity from an external power source, i.e. when you plug in to power at a campground.
Wet bath:
A combination unit style bathroom, where the toilet and shower are combined into one area.
Bumper Pull:
Slang term for a travel trailer, indicating how the camper is towed.
Doughnut:
The rubber ring that seals an RV sewer hose into a campsite's sewer pipe.
Dry Weight:
The unladen weight of a camper, the unit as it stands before adding any cargo or water.