Teriyaki Beef Jerky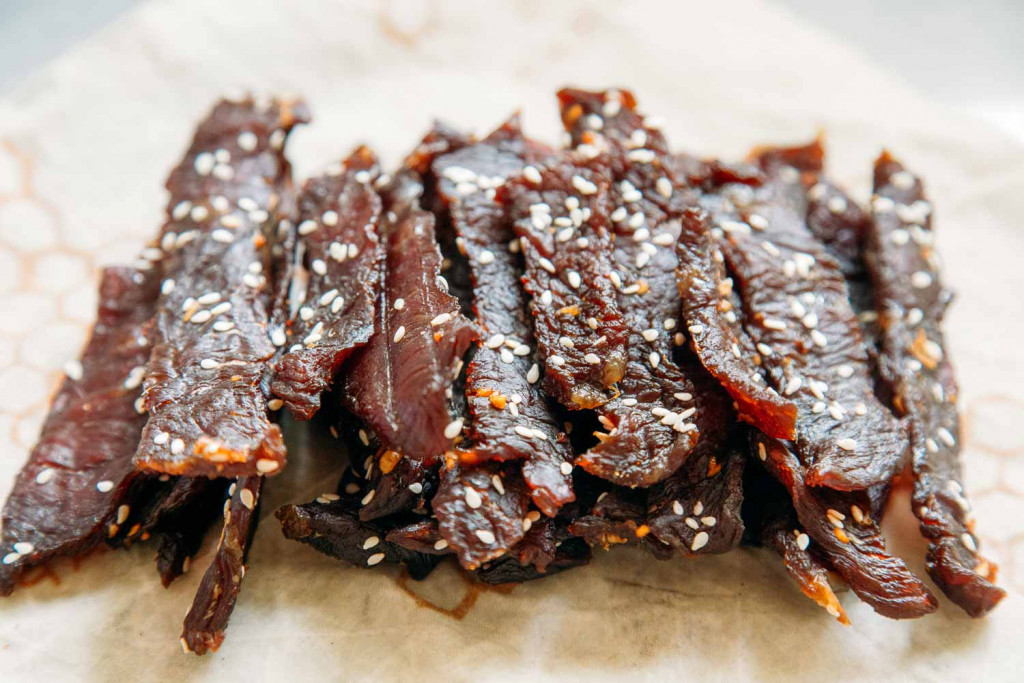 Equipment
Dehydrator
Dehydrator Mesh Liner
Ingredients
1 pound eye of round or top round
¼ cup soy sauce
2 tablespoons mirin
2 tablespoons brown sugar
1 -inch piece fresh ginger, minced (or 1 tablespoon pre-grated)
2 cloves garlic, minced
1 teaspoon salt
¼ teaspoon Prague powder or Instacure (optional)
Instructions
Slice the meat into ⅛ – ¼ inch thick pieces, removing as much visible fat as possible. Place in a large zip-top bag and set aside.
Mix the soy sauce, mirin, brown sugar, minced ginger & garlic, salt, and Prague powder, if using, in a small bowl until the sugar dissolves. Pour into the zip top bag with the meat, taking care to ensure that the meat is evenly coated. Place in the fridge to marinate 12-24 hours.
After the meat has marinated, place the strips onto your dehydrator trays. Sprinkle with sesame seeds. Dehydrate at 160F for 4-6 hours, until the meat has dried. The general rule of thumb is if you bend a piece and it cracks, it's done – if you bend a piece and it breaks it's been cooked too long.
Remove from the dehydrator and set aside to cool completely before sealing in a bag or tupperware.
Jerky that has been marinated with Prague powder or Instacure will last a few weeks in a sealed bag at room temperature. Jerky marinated without any cure will last two weeks in your fridge.
TEMPORARY BUSINESS HOURS:
WE'RE OPEN FOR BUSINESS! HOWEVER, WE'RE CURRENTLY HAVING TEMPORARY BUSINESS HOURS DUE TO THE COVID-19 PUBLIC HEALTH CRISIS. FOR INQUIRIES REGARDING SALES & FINANCING, PLEASE EMAIL JOHN LABARGE AT JL@PLATTSBURGHRVSTORE TO MAKE AN APPOINTMENT TODAY!